This is officially my first link up... and I'm not real sure that I'm doing it right, or that I'm even allowed, but here it is! If anyone reads this and would like to do the same, click go on over to Holly's page and follow the instructions!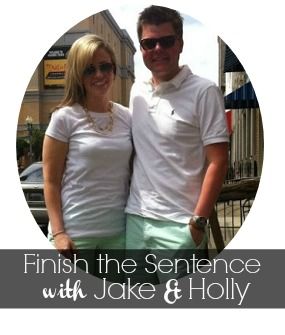 1. My favorite Christmas was....
When I was little, I used to wait restlessly on Santa to come! One year, my sister and I woke around 3 in the morning, but knew better than to wake our parents. We decided to play Nintendo until everyone got up... somewhere around 5, my dad comes trotting down the hallway, in his tighty-whiteys and yelled at my sister and I, "If I hear that thing go "whoop, whoop" one more time, I'm going to "whoop, whoop" all over your ass!" Needless to say, we went back to bed and didn't wake again until around 10!
2. The worst Christmas I had...
I'm not sure I've ever had one. Holidays were always hard for me because I had divorced parents that had remarried. There were always so many people to see, lots of people I didn't get to see, and lots of time spent making everyone else happy.
3. That one gift that made me scratch my head and say, "Hmmmm" was...
A bible from my grandmother, with my name spelt completely wrong. And she thought it was right.
Received a fur (ish) vest from a grandmother... Absolutely hideous. It had four or five kinds of fur, and it just wasn't me. My mother re gifted it and it was done.
The very next year, I received the exact same vest from a "secret sister" at church... MIND. BLOWN.
5. I think the worst gift to give is....
Nothing. If I have nothing to purchase for a person, they at least get a card. Something homemade. Something. Anything.
6. At Christmastime I typically....
Freak out... I'm always worried about everyone but me. I've got to learn to loosen up.
7. Typically, family Christmas....
Is CRAZY. So many people, so many families, so much running.
8. If I could change one thing about the Holiday season....
It would last longer. Each holiday should be at least two days long. Some of us need more than a day to make it everywhere, others need the second day to recuperate from the one day!
9. It is so hard to buy for....
My honey. Always. No matter who he is! (Luckily there has only been two)
10. My favorite Christmas tradition is...
Opening presents in my OWN home ON Christmas morning. I purchased my first home last year and it was SOOOO nice to wake up and let my kids open their presents in their very own house and then not have to load them up immediately to move to the next place.
11. Santa, baby, bring me...
YOGA GEAR! I've became addicted to yoga this year. I need my very own mat and video, so that I can give my sisters back. A subscription to Yogaglo.com would be handy too! :-)